Sunday, September 18, 2022
Afternoon update
Fiona was turned into a hurricane this morning. This is in line with forecasts just in time for landfall in Puerto Rico later in the day. The northern edge of the storm is scratching the southern part of the island right now! As far as movement goes, this is the STRONGEST part of the storm and will continue to pound the island with a slow track. Forecasts indicate that some places will receive more than 25 inches of rain.
This is a serious situation with major flooding, mudslides and power outages that can last for a long time.
Winds at the 11 a.m. advisory were 80 mph, making it a Category 1 storm. It was moving west-northwest at 8 mph, located 50 miles south of Ponce, Puerto Rico .
While that might not seem like a big deal since the islands are used to tropical cyclones, the slow timing, proximity, and long duration make this the worst case scenario for Puerto Rico.
I will post live updates in this post. The next advisory from the National Hurricane Center will be at 2:00 p.m. EST.
Satellite loops
See images from the storm tracking footage today.

Snapshot at 1 p.m. EST
Location plotted 50 miles south of St. Croix and 80 miles southeast of Ponce, Puerto Rico. It should follow the west side of Puerto Rico and the east side of the Dominican Republic.
LIVE RADAR: WEATHER WIDGET
Use the controls to zoom, pan/recenter and loop the images.
Sunday afternoon Latest info…
Hurricane Fiona
Winds are 80 mph
Moving WNW at 8 mph (slowed down since yesterday)
Hurricane force winds: Extend 30 miles from center.
Tropical Storm Force Winds: "Extend 140 miles from center
A weather station in Las Mareas, Puerto Rico, recently reported sustained winds of 62 mph (100 km/h) with a gust at 75 mph (120 km/h).
The minimum central pressure estimated from Hurricane Hunter aerial observations is 987 mb (29.15 inches).
From NOAA/National Hurricane Center
SUMMARY OF EFFECTIVE WATCHES AND WARNINGS:
A hurricane warning is in effect for…
* Puerto Rico including Vieques and Culebra
* The coast of the Dominican Republic from Cabo Caucedo to Cabo Frances Viejo
A hurricane watch is in effect for…
* US Virgin Islands
* North Coast of the Dominican Republic from Cabo Frances Viejo west to Puerto Plata
A tropical storm warning is in effect for…
* US Virgin Islands
* British Virgin Islands
* North Coast of the Dominican Republic from Cabo Frances Viejo west to Puerto Plata
A tropical storm watch has been in effect for…
* South coast of the Dominican Republic west of Cabo Caucedo to barahona
* Turks and Caicos Islands
* Southeast Bahamas
Forecast tracking
FORECAST DETAILS:
RAIN : Fiona should produce the following precipitation:
Leeward Islands: 2 extra inches or less.
British and US Virgin Islands: 4 to 6 inches, maximum 10 inches on Sainte-Croix.
Porto Rico: 12 to 16 inches with a local maximum of 25 inches, especially in eastern and southern Puerto Rico.
North and East of the Dominican Republic: 4 to 8 inches with a local high of 12 inches, especially near the far east coast.
Rest of the Dominican Republic and Haiti: 1 to 3 inches.
Turks and Caicos Islands: 3 to 6 inches.
These rains will produce flash flooding and life-threatening urban flooding in Puerto Rico and the eastern Dominican Republic, as well as landslides and landslides in areas of higher ground.
STORM SURGE: The combination of storm surge and tide will cause normally dry areas near the coast to be inundated by rising waters moving inland from the shore. The water could reach the following heights above ground somewhere in the areas shown if the onshore winds and surge peak occur at the time of high tide…
South Coast of Puerto Rico…1 to 3 feet
Vieques and Culebra…1 to 3 feet
U.S. Virgin Islands…1-2 feet
Forecast Intensity
There is NOW much more support for this to reach at least a Category 2 hurricane AFTER passing north of Puerto Rico.
Tropical forecast track/cone
Wide View Forecast
Most sets show this curve through the Bahamas and then east from the US coast to Bermuda. Although it may miss the east coast of the United States, it will produce dangerous rip currents and beach erosion on the mid-Atlantic seaboard.
INTERACTIVE WIND FORECAST: NHC Forecast
Use the slider at the bottom of the viewer to adjust the time. You can adjust the view to zoom or pan the map.
Weather messages straight to your inbox
Sign up and be the first informed!
EXPLORE MORE
Atlantic Tropical History: 10-Day Home Region Maps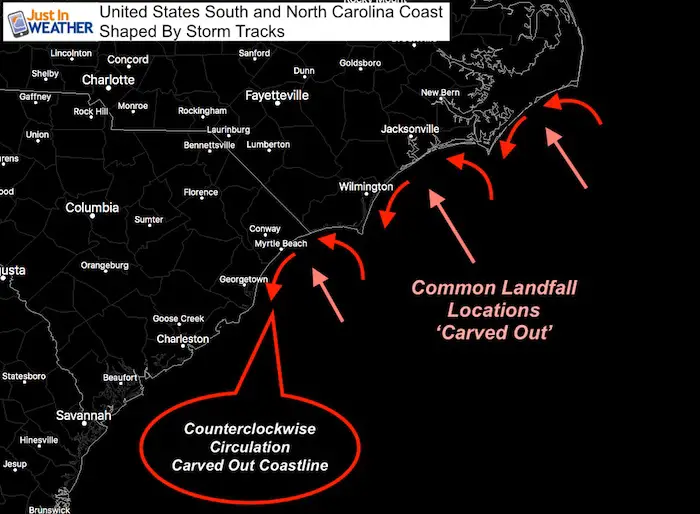 NOAA study: Reduced air pollution INCREASE in tropical storms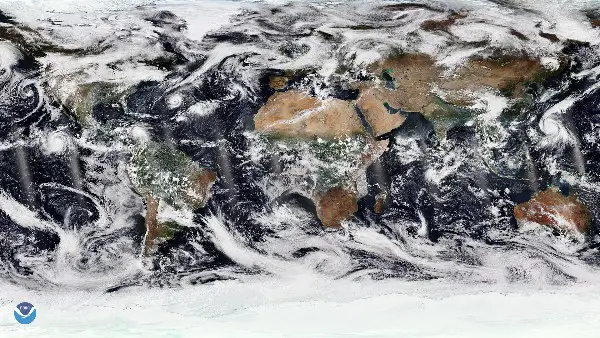 COMPARE TO
PAST

If you want a snowy winter, that's what you might want to look for in the rest of the tropical season.
August record for unnamed tropical storms: Take a closer look at the snow that follows
Hurricane Season Forecast: June 1 to November 30
NOAA Hurricane Forecast 2022 – Above Normal Again
Colorado State University Forecast
Atlantic Hurricane Forecast
Please share your thoughts, best weather photos/videos, or just stay in touch via social media
STEM assemblies and field trips are back
Click to learn more and "Book" a visit to your school